Intelligent water and electricity metering enable accurate monitoring and control of utility consumption for billing purposes. Alternative energy and uninterrupted power supply solutions reduce downtime and costs.
Utility solutions users enjoy demand response, load control, utility monitoring, forecasting and management. Our smart meter technology, with its real time performance and the complimentary smart home equipment, enables it to become the standard platform for the demand side of the energy equation.
Electricity, water and gas utilities
Pulse Communication provides IP-based, smart metering solutions for pre-paid and post-paid electricity, water and gas meters. An Internet-based customer portal gives users access to real-time usage information and supports consumption management and control.
The solution is made up of two components:
The metering solution; and
The meter data management system.
A smart grid solution provides an end-to-end management tool for multi-tariff metering and power management.
Alternative power solutions
There are many business disadvantages that result from power outages, including lost productivity and revenue, to increased risk of crime and reputational damage. Alternative power solutions provide reliable power supply to critical equipment and services and help to avoid unnecessary costs associated with interruptions in power supply.
End-to-end solar photovoltaic (PV) solutions
PV solutions mitigate the risk of being exposed to unpredictable electricity tariff increases and provide a financially sound alternative energy supply. The modular rooftop and ground-mounted solutions have a design life in excess of 25 years and can be increased in size at any stage.
Generators
Generators are popular emergency energy solutions that keep critical equipment and services operational during electrical outages.
Uninterrupted power supply (UPS)
UPS provides near-instantaneous protection from power interruptions by supplying sufficient stored energy to start a standby power source or to properly shut down critical equipment.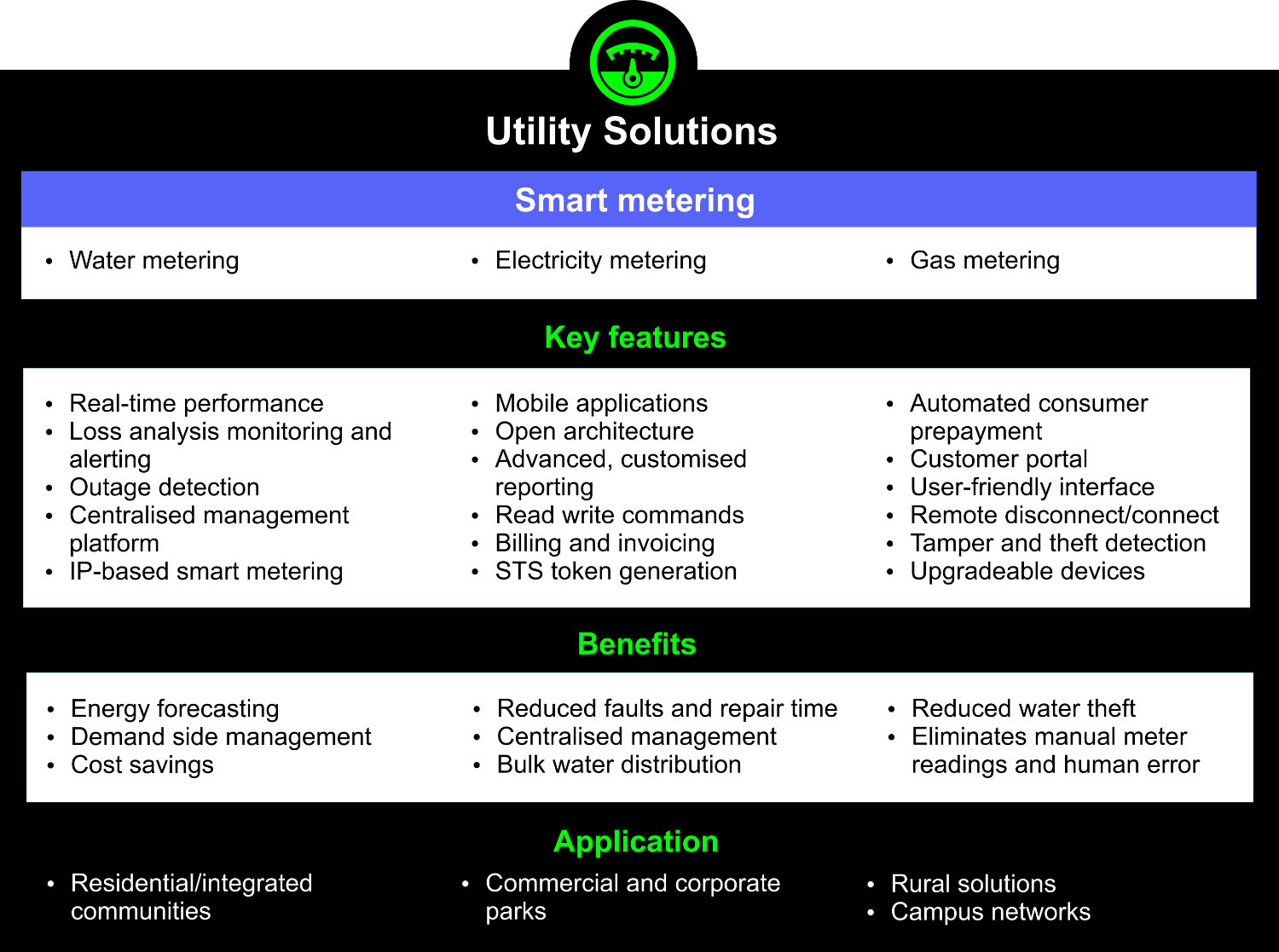 How far are you from delivering smart homes to today's smart consumers?
Contact us to discuss how to stay relevant in the technology revolution.
About Us
Pulse Communication offers integrated, state-of-the-art solutions that enable integrated communities to reduce costs, manage risks and have the ability to respond to the changing demands of residents.
Contact
Corporate Park North
238 Roan Crescent, 1685
Old Pretoria Road, Midrand